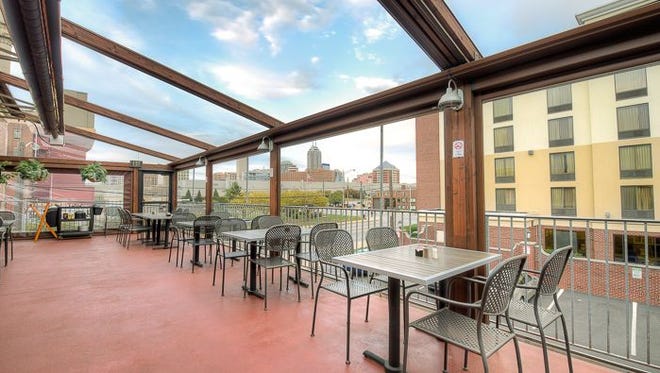 In Indiana, it isn't every day of the year that you get to enjoy a nice meal or a cold drink outside. During the winter, one may find themselves holed up at home with a warm bowl of chili instead. However, during the Summer and Fall is what many Hoosiers consider to be the best time of year—patio season.
PMI Midwest has compiled a list of some of our favorite patios to frequent and wanted to share it with you, our reader. Whether you are a born-and-raised Hoosier or a new transplant to the area, we think you're sure to find a new patio to love here:
Forty-Five Degrees - Named for the odd angle at which Mass Ave meets College Ave, FortyFive Degrees is encased with uniquely angled walls, odd shaped seating areas, and tubular light pendants, all of which add to the theme. FortyFive Degrees is what many Indianapolis locals consider their go-to sushi spot. FortyFive Degrees has a full bar and an amazing Sunday special which many guests come back for week after week—half-priced sushi rolls with the purchase of a cocktail.
BRU Burger - This popular restaurant has a lengthy list of creative burgers from a Mexicali BBQ burger to a burger with a fried egg on top. But don't let the name fool you – BRU is about more than just burgers. Dine al fresco underneath BRU's streaming lights to catch a view of one of Mass Ave's coolest art installments, Brick Head 3. Other BRU locations include Carmel, Noblesville, Keystone, and Plainfield.
Bluebeard - This Kurt Vonnegut-inspired restaurant in happening Fletcher Place offers contemporary Italian-style cuisine in a cozy yet modern outdoor atmosphere. Snacks, charcuteries, and cheeses are offered on a menu that changes daily. Ponder the libations menu while you enjoy fresh baked bread from the in-house bakery, Amelia's, which provides artisan breads for a number of Indianapolis restaurants and grocers.
The Tap - Beer drinkers rejoice, because your patio has been found. With 50 beers on tap, including their own brewed in Bloomington, The Tap is a hop lovers paradise. With city views on one side, and a living wall on the other, it has a vibe that is both organic and distinctively urban.
Rick's Boatyard Café - Nestled in the hillside overlooking Eagle Creek Reservoir, Rick's Café Boatyard offers a picture-perfect view of one of the largest municipal parks in the country. You'll never know you're in land-locked Indiana as you sample Rick's famous crab cakes and scallops.
Livery - Livery's two-story restaurant, housed in a refurbished 1890s stable yard, naturally directs guests to its spacious rooftop patio. With a exciting menu of revamped traditional Latin options such as empanadas and ceviche, Livery's lively atmosphere is made even better by its patio. Large, open seating and comfortable furniture makes Livery a great destination for a night out – outside, that is!
The Eagle - Country touch meets urban cool on the corner of Mass Ave and Delaware Street. The Eagle boasts a lively patio with a full bar and several fire pits, welcoming all to this sparkling watering hole. This pivotal corner of Mass Ave is quickly becoming a busy and happening hot spot for sunny afternoons and warm evenings.
La Revolucion - You know the patio's going to be good when it has its own name. Residents and visitors alike bee line for the Tiki Bar, located in the back of La Revolucion. Famous for their six pack of sauces, delicious queso, and knock-your-socks-off margaritas.
Metazoa - Your one-stop spot for delicious beer, Metazoa's airy and open patio space is full of picnic tables with an epic skyline view. In-house brews and experimental flavors welcome 21+ guests of all beer-backgrounds. Known for its dedication to animal and wildlife organizations, Metazoa is pet-friendly, especially its patio! While Metazoa does not serve food inside, they have a resident food truck parked outside Thursday through Sunday which serves tasty BBQ for guests who want to grab a bite with their brew.
The Garden Table - The Garden Table is a local eatery and fresh juicery serving seasonally influenced and locally sourced food and cold-pressed juice. They believe in simple dishes, made from natural ingredients, grown and harvested by local farmers. They have two locations in the Indianapolis area—one in the free-spirited and laid-back Broad Ripple neighborhood and the other in one of six cultural districts of downtown Indy, Mass Ave.
Café Patachou - Café Patachou is more than a neighborhood restaurant; it's been a local institution since 1989. A "student union for adults," each location of Cafe Patachou is beloved by all. Omelettes prepared with truly farm-fresh Indiana eggs, salads, and sandwiches featuring locally sourced produce and proteins, house-made soups and desserts, and up-market coffee (selected by our in-house coffee director) — but they stay for the refreshingly personal yet professional table service, energy filled interiors and intuitive hospitality.
Wolfies Grill – The owners' vision of creating a northern woods atmosphere dropped them on a lakefront view overlooking Morse Reservoir, allowing them to build on their principles and create a small community. With the support of the growing family and staff, Scott and Nyla have expanded to seven locations throughout Hamilton County — five Wolfies restaurants, the Italian House in Westfield and the Broken Barrel in Carmel. Wolfies serves up American cuisine and features many vegetarian options alongside refreshing craft cocktails.