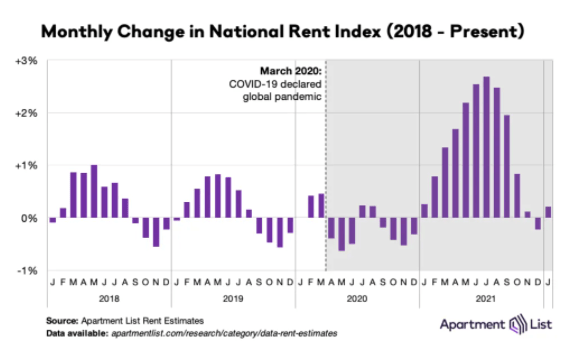 The new year is a perfect time to talk about the seasonality we experience in Indianapolis when dealing with different renting trends. Whether you currently own real estate in Indy and are renting it out, or you are looking to buy your first home this article is for you!
The beginning of the year is usually cold with some snow in Indianapolis. Most people don't like to move during this time period unless they absolutely have to. We see the tenants looking to move in the first quarter increase as we get closer to spring. Activity starts to pick up in March for 2 main reasons. The weather is getting nicer, and people are getting their tax refund checks so they have extra money to use for moving expenses and 1st month's rent deposit.
As you can see from this chart from Apartmentlist.com, in 2018 and 2019, the traction picks up from January to March. It continues through the summer. The weather continues to improve in the spring and summer so it stays active until the kids go back to school in the fall. Most schools are back to school sometime in August, so August through December is the slowest time of the year. Kids are back in school, the weather starts to turn cold again, and you have the holidays. Indianapolis follows this national pattern almost exactly. 2020 and 2021 are hard years to duplicate due to COVID, but 2018 and 2019 are good trends to go by before the pandemic.
If you have a home that becomes vacant during one of the slow months, consider offering the tenant a 15 or 18 month lease instead of a 12 month lease. The tenant will like the idea of a fixed rate for a few additional months, and when the lease expires, it will be easier to find a new tenant since it won't be in one of the slower months.
When you have a lease expiring during a slow period, think about pricing aggressively to attract a good tenant. For example, if you drop the rental amount by just $50 per month, but rent it out a month faster you would net more in a year's time.
Also being as flexible as possible by allowing pets, with a pet fee of course, could expand your rental possibilities without effecting your net income. You can also offer a no deposit option. Don't worry, you aren't as exposed as you might think. We will have another blog about how this works soon!
We rent homes every month of the year. It's not detrimental if you have a home become vacant in a slower time, it's just making sure your property manager is aware of this and being pro-active to make sure your bottom line is protected!
If you want more information contact us today! 317-546-3482 or email info@midwestpmi.com